October is Down syndrome Awareness Month. As part of the efforts to raise awareness about the wonderful people with Ds who we have in our lives and the beautiful contribution they make to society, I am joining many other Bloggers in attempting to post everyday during the month of October. We shall see how I do!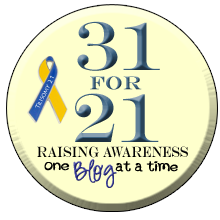 I am inviting "Guest Post-ers" to send me an email with a contribution that you would like posted on my blog. This is open to our family and friends who would like to write something about how having someone with Ds in their life has enriched their life or some other thing they would like to share about Down syndrome. Just send me an email. (This also helps give me something to post everyday!)
If you would like more info on this challenge and links to other Bloggers taking the challenge just click
More info!